Child Minding Provider Testimony
I devised this pack away display board using a white shower curtain to provide information and support to parents and carers whom I provide provision for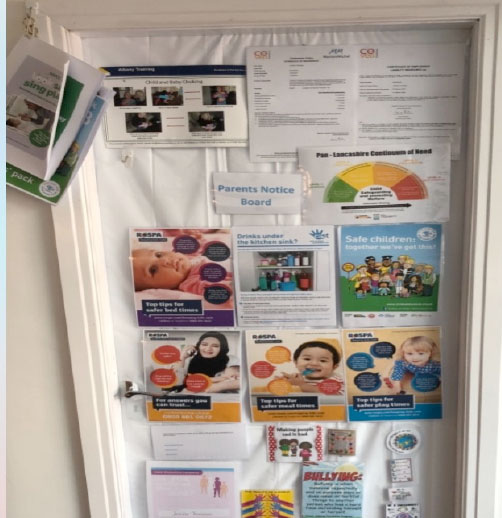 After I attended a Safeguarding course with Inspire to Learn training with Mandy one of the trainers who inspired the audience to share their safeguarding knowledge and information with others
I wanted to display various items of support to safeguard children in the home when traveling and in other environments including when online
It includes displaying top tips on bedtimes, safer meal times and other helpful links to websites which provide guidance and information such as accident prevention and safer care.
I encourage parents to read and take any leaflets they may find useful which may also answer any questions they may have to encourage them to participate and become more involved with their children's learning and development alongside my setting!
The display also promotes anti-bullying and the Rights of children.
Mandy also shared a really useful website and other useful information to support and encourage learning and development for various ages and stages of development.
Childminder
Jenny T
February 17th 2019
Outstanding Evolution Childcare
Good Morning Phillip and Mandy thank you for all the lovely gifts you provided to help our team and families to celebrate our Oftsed report of Outstanding.
Please acknowledge our great appreciation for all your support and the amazing training you have provided for our team since we opened.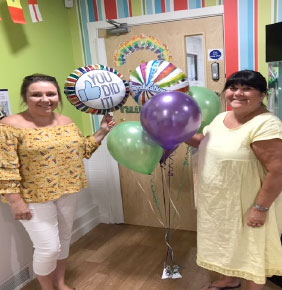 We have now decided to provide a party to celebrate with the children & our friends following the recent Outstanding OFSTED judgement,
We would be delighted if you could join us on from 11am -12 noon Wednesday 26th September 2018
There will be a light buffet & a fantastic cake made by our nursery chef, plus balloons & stickers for the children and we may even have a visit from the local newspaper.
Please confirm if you will be able to come along,
Sarah
Sarah Fox
Nursery Manager
Evolution Childcare @ Shadsworth Business Park
Another Safeguarding for Nominated Officers Level 2 training was completed on 14 & 21 January 2016.  The 2 night course was held at the fabulous Oswaldtwistle Mills Business & Conference Centre with all attendees completing the course.  We received amazing feedback with everybody saying that the sessions were very effective in helping to meet their needs and that there were changes they would make following the information that we passed on during the training.
Good luck to everyone and we hope to see you again soon.
Mandy Monk (Far Left) presenting certificates at the end of the course.
Free Consultancy Now Available
Inspire to Learn Training are pleased to announce that we are now offering
FREE consultancy to all Early Years Providers in Lancashire.
You would be entitled to 1 ½ hours in-house consultation to reflect and review current practice and provision, using the '16 Steps to Achieving an Outstanding OFSTED' and the EYFS Welfare Requirements.
A written summary and evaluation of the consultation will be provided with appropriate recommendations and guidance provided.  Further follow up advice/discussions will also be available*.
Mandy has over 25 years experience as an Early Years and Higher Educational Practitioner, working in a range of Early Years Provisions in various roles and positions.  This has enabled her to gain a wealth of skills and knowledge of the expectations of OFSTED.
To take advantage of this offer, or for further information,
contact Mandy or Philip on 01254 461116 or email info@inspiretolearn.co.uk
* Charges would apply
Inspire to Learn Training Ltd – Terms and Conditions
Please read these terms and conditions before making a booking for any of our courses. You should understand that by booking any of our courses you agree to be bound by these terms and conditions.
1. ABOUT US
Inspire to Learn Training Ltd are registered under company number 09241744.
2. HOW TO BOOK
2.1 You can book any of our courses by contacting us or completing a booking form and returning to us at info@inspiretolearn.co.uk or by posting to Inspire to Learn Training, Oswaldtwistle Mills, Clifton Mill, Oswaldtwistle, Lancashire BB5 0EY.
3. HOW THE CONTRACT IS FORMED BETWEEN YOU AND US
3.1 After booking the course you will receive a confirmation letter from us confirming your booking and course details (to be received either by post or email) as well as an invoice for the booking. The contract between us is then formed.
4. PAYMENT
4.1 Full Payment is required in advance of the course date.  Payments can be made:
By cheque payable to Inspire to Learn Training Ltd and posted to Inspire to Learn Training, Oswaldtwistle Mills, Clifton Mill, Oswaldtwistle, Lancashire BB5 0EY.
By Bank transfer – contact 01254 461116 or info@inspiretolearn.co.uk for further information
4.2 All invoices are due to be settled within 30 days of receipt.
4.3 Without prejudice to any other right or remedy that we may have, if you fail to pay the course cost on or before the date due, we may;
Charge daily interest on such sum from the due date for payment.
Withhold Delegates Certificate of Attendance until payment has been made.
5. CANCALLATION AND TRANSFERS
5.1 The following cancellation / transfer fees and periods apply to any cancellation by you: Days notice of cancellation prior to the commencement of the course and % course fee to pay:
10 working days or under (including non-attendance) – 100% plus all non recoverable expenses
11-25 working days – 50%
5.2 Subject to clause 5.1, you may cancel within five working days from the date on the booking confirmation. In this case you receive a full refund less a 20% of the total cost administration charge.
5.3 Should you wish to transfer a course booking, you may attend another course of equal or greater value upon paying the difference (if any). If you cancel or transfer a course booking then an administration charge of £10 will be levied.
5.4 To cancel or amend a contract you must inform us by email in the first instance (info@inspiretolearn.co.uk) and also in writing.
5.5 We reserve the right to cancel and / or amend any booking at any time without notice to you.
5.6 Courses only proceed with a minimum of 10 delegates. The maximum number of delegates is 20. In the event that less than 10 delegates are recruited to a course, delegates will be booked on the same course at a different venue or date.
6. DELEGATES
6.1 If you are unable to attend, a substitute may attend at no extra charge. Please inform us of these changes as soon as possible.
6.2 Delegates should act reasonably throughout the course. We reserve the right to cease training or expel the delegate should their behaviour be unacceptable to the course provider.
7. COURSE LOCATION
7.1 We reserve the right to amend the course location at short notice, however we will endeavour to provide you with details of alterations as soon as possible.
8. COURSE FEE
8.1 The price of any courses will be:
in the case of obvious error; or
Where courses are customised, the fee advised by us
8.2 We are currently not registered for VAT, therefore no VAT is included in the price.
8.3 We reserve the right to amend any course fees, however changes will not affect bookings in respect of which we have already sent you a booking confirmation.
9. OUR LIABILITY
9.1 We shall not be liable to you for any direct or indirect costs incurred by you as a result of:
Variation of a course location by us or any third party; or
Cancellation of a course by us or you; or loss or damage to property
9.2 Our liability is limited to the course fee